Today is a self-adventure day.
Iris planned to meet her friends at Sunway Pyramid and wanted to take the bus or cab there but I insisted to drive her there. If not, it would make me look like a lousy sister since I'm free.
After dropping her off, I was supposed to take the exit out to Kelana Jaya but I was just joyfully driving until I missed the junction and was left with no choice while the car happily took its way to the New Pantai Expressway (NPE). My first time on this highway and I was looking for a sign that spells the word "Home".
Decided to take the exit on the left which then brings me to Petaling Jaya but couldn't really figure which part of PJ it is until I pass by Jalan Gasing, Taman Jaya, a roundabout, then I ended up along Federal Highway and saw the very familiar Kerinchi Link which took me home. But I decided not to go home but to hit The Curve with a mission to get a book.
Dropped by Borders and found hard copy versions of Jane Austen's "Pride and Prejudice". None of the paperback versions were available except for other Jane Austen's title.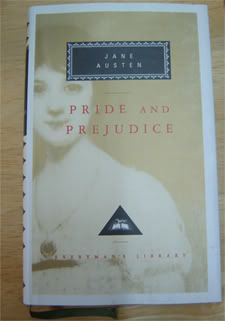 Therefore, I tried my luck at Popular Bookstore, Ikano but there wasn't a single "Pride and Prejudice" but other titles by Jane Austen. I was glad I came here because I got to meet Emi Fujita during an autograph session. I was so tempted to get her CD and get it autographed but I could only buy one thing today. I chose to buy the book instead.
Again, I went in searching of the book and this time in MPH but again there wasn't any sign of the book. Feeling a little disappointed, I went back to Borders, took the book down from the shelf and explored other shelves while I thought to myself whether or not to buy it. Eventually, I decided to buy it even though it costs a little more because I wanted it so much.
*
"Vanity and pride are different things, though the words are often used synonymously. A person may be proud without being vain. Pride relates more to our opinion of ourselves, vanity to what we would have others think of us."
– Jane Austen